Secure AudioTX IP... for Live IP audio over IP Networks
Secure AudioTX ISDN for live audio over ISDN lines



Secure AudioTX ISDN... for your ears only...
Secure AudioTX IP allows you to send and receive LIVE audio over ISDN Lines. AES government standard encryption is used on the link, ensuring that your private conversations stay private.
Secure AudioTX ISDN

Live bi-directional or uni-directional audio over ISDN lines
Your audio is encrypted using the US Government approved AES algorithm for high-security
Uses standard Windows sound cards and one of our approved ISDN cards
Key manager keeps your encryption keys safe and allows you to refer to them easily by name
Phonebook with unlimited entries

Specifications

Works at bitrates of 64kbps (one b-channel) or 128kbps (2 b-channels).
Audio is coded using MPEG 2 or 3
Professional quality audio - up to 20khz audio bandwidth
Low delay of 90ms - dependent on ISDN line and coding algorithm selected.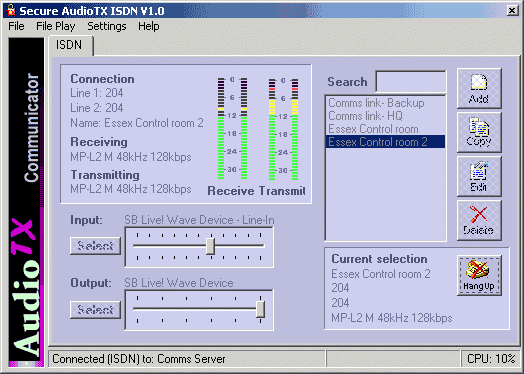 | | | |
| --- | --- | --- |
| Built in keyring manager allows you to easily manage a number of individual 256-bit encryption keys - so you can just refer to them by a name... | | |
| | | |
| --- | --- | --- |
| | | Keys can be generated from a passphrase, randomly or entered by hand... |
Secure AudioTX ISDN...
Secure AES encrypted audio transmission
over ISDN Lines

Remote Monitoring/Surveillance

IP Telephony


Private Communications

Government and Law enforcement